Efficient Equipment Integration
PAC – the flexible and open platform for your equipment integration
PAC - Process Automation Control
Solutions for equipment integration and automation
The PAC (Process Automation Control) solution developed by ZNT is a powerful, open platform for your equipment integration and automation needs in the manufacturing industry. Using a specialized integration logic, PAC achieves standardization of information from the equipment level for a transfer to higher-level systems at the MOM level. The PAC platform enables control of the entire integration level, and thus, creates a central architectural prerequisite for transformation processes of the industry 4.0.
Optionally, PAC can take over the machine's overarching production control. This decoupling of the MES from direct communication with the equipment level and individual machines significantly facilitates the implementation of end-to-end digitalized production control.
Successful equipment integration with PAC
Customers from various industries have successfully integrated a large number of different equipment types with PAC:
600+
Equipment types integrated
20.000+
Equipment instances integrated
Integration of every machine
Connecting the shop floor with upper levels
Flexible communication adapters and the specific integration logic support common interfaces out of the box so that every equipment can be connected. Each target system receives exactly the data it needs through a data channeling approach.
Uninterrupted and traceable
Central administration
The central platform for administration and monitoring enables 24/7 operation of machine integration with uninterrupted configurations and updates. Instances can be versioned so that you are always fully in control of deployed versions.
On-Premises or in the cloud
Flexible deployment
PAC components can be deployed flexibly in different ways and on different systems. Hosting is possible both on-premises and in the cloud, always tailored to your specific requirements.
PAC integration platform
PAC consists of several components as a platform for your equipment integration and automation:
PAC
Platform
Flexible communication adapter for equipment integration with optional operator UI
Deployment
Management
Central tool for administration, control and monitoring of integrated equipment instances
Implementation Methodology
Agile, uniform implementation approach for integrating different machines
Standardized
Trainings
Product training with the goal of enabling your employees to use and maintain the solution independently
One solution for equipment integration and automation
Equipment integration
Level of Automation
Flexibility & Maintainability
Integration into a diverse IT landscape
PAC integrates equipment into a diverse IT landscape. The integration with higher levels is realized, through enterprise-wide communication platforms such as SAP PI, TIBCO or ActiveMQ.

PAC uses data channeling to ensure that each integrated system receives only the data it needs. In addition, an integration with analytics solutions is possible so that you're always aware of the status of your production.

PAC creates a smooth interface communication and can integrate basically any machine, as it supports common interfaces (OPC, fieldbuses, PLC, file, SQL databases, message busses, WebServices, etc.) out of the box.
Supporting different automation levels
PAC supports all automation levels, from typical data collection to basic automation, advanced automation and full automation. One platform for your strategic automation considering different automation scenarios.

PAC unburdens the higher levels from equipment type specific automation workflows, both in terms of real-time behavior and complexity.
Flexible deployment and long-term maintainability
As a central platform, PAC enables easy administration of all integrated machines and long-term maintainability. This centralized administration ensures uninterrupted operation in a traceable and consistent manner.

PAC enables flexible deployment on different target systems (e.g. Windows, Linux), virtualized in the cloud or on-premises, containerized, on a data center (e.g. IPC, server) or on an edge device.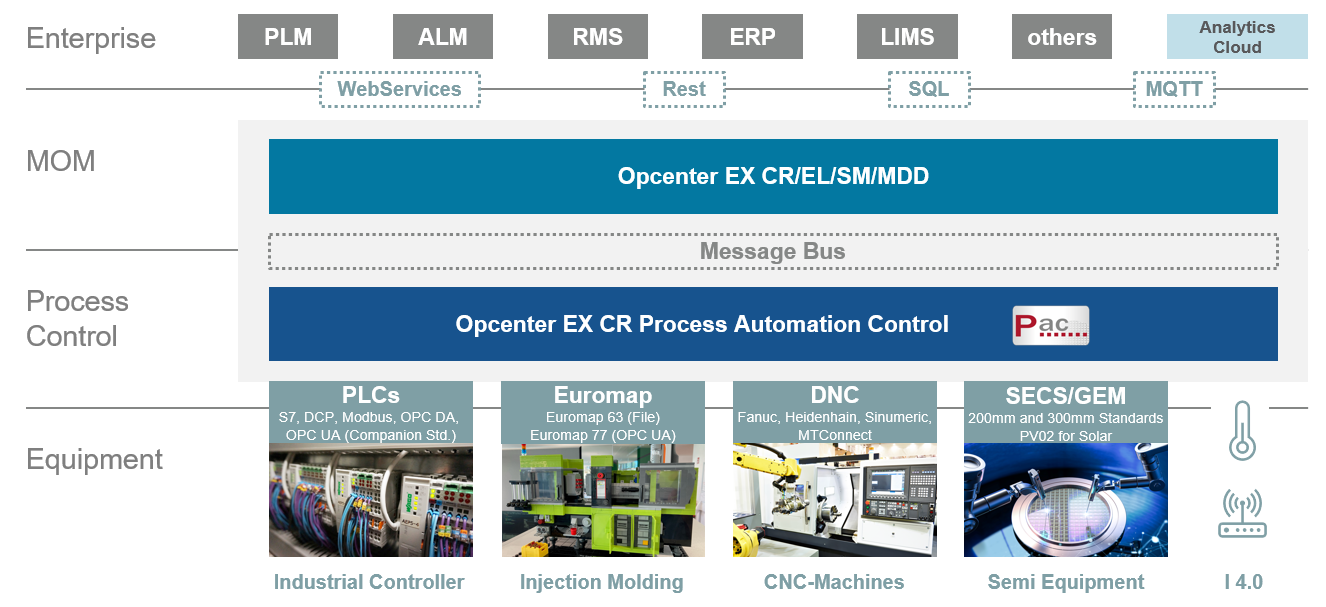 A Selection of successful PAC customers
PAC for once – PAC forever! Most customers have been using PAC for their equipment integration and automation for many years.
Schedule your personal appointment for a short presentation:
For an initial appointment, you can choose between 15 and 30 minutes.
When booking your appointment, please tell us briefly your three most important requirements so that we can prepare individually.