MES for Medical Device Manufacturers
Product and DHR have to be perfect!
MES creates the basis for paperless manufacturing and closed loop manufacturing
Strategic MES digitalization platform: Siemens Opcenter Execution Medical Device and Diagnostics
MES as the basis for paperless manufacturing
in the medical device industry
Digitalization and paperless manufacturing are both a challenge, a goal and an opportunity for medical device manufacturers. The foundation is a powerful MES system that guarantees industry-specific requirements, such as continuous documentation (DHF, DMR, DHR) and compliance with regulatory requirements according to FDA or MDR, through industry-specific functions.
Siemens Opcenter Execution Medical Device and Diagnostics (Opcenter EX MDD; formerly Camstar Enterprise Platform) is a modern MES system that supports all processes from design to engineering, planning to production and enables continuous eDHF and eDMR as well as a self-auditing eDHR. Opcenter EX MDD helps medtech manufacturers to minimize the use of paper and formats such as Word, Excel and PDF and the associated frequent sources of errors as well as recall actions caused by non-conformances.
We have been supporting medical device manufacturers worldwide successfully for over 25 years to digitalize, optimize and automate their manufacturing processes. The combination of Siemens Opcenter EX MDD as MES system and znt-Richter as implementation partner offers you important advantages: You receive a powerful MES based on a future-proof solution platform from an experienced MES implementation partner for Smart Manufacturing and Closed Loop Manufacturing solutions.
MES creates the basis for paperless manufacturing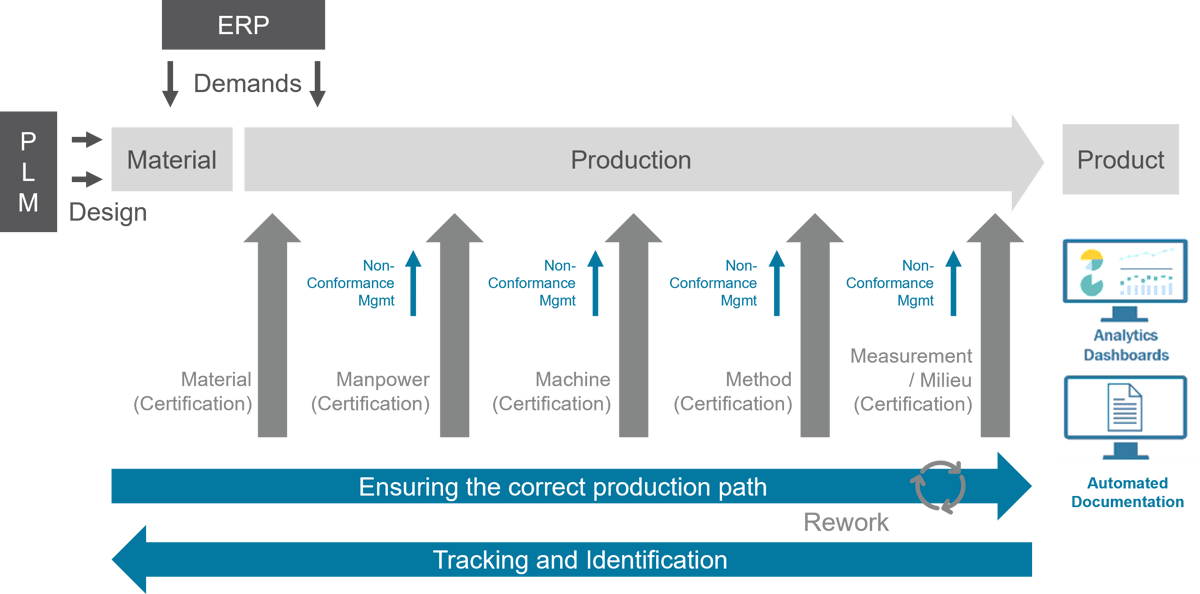 How digital is your medical device manufacturing?
Use our checklist to find out where you rank in paperless manufacturing on a scale of 1-10 and which areas offer the greatest potential for optimization.
Challenges
Goals
MES solution
Challenges in medical device manufacturing
Increasing regulatory requirements for the authorization and distribution of medical technology products, for example in the form of the EU Medical Device Regulation (MDR), represent the biggest challenge according to inter-branch organisations.
They represent a considerable cost factor and demonstrably slow down innovation. At the same time, complex and increasingly fragile supply chains as well as the growing number of product variants increase the pressure to digitalize the own processes for a paperless manufacturing.
In summary:
Increasing regulatory requirements according to MDR, FDA
More complex authorization and distribution of products
Individualised mass manufacturing of complex products
Cost and efficiency pressures from design to manufacturing for a fast NPI
Global dynamic competitive environment
Product and (e)DHR must be perfect
Paperless manufacturing for medical device manufacturers
The goal of paperless manufacturing in medical device production requires the comprehensive digitalization of available systems and processes. This includes the replacement or integration of available systems to avoid media gaps in the transfer of information and data between development, planning, production and quality management.
In addition to the fulfilment of specific and often urgent functional requirements, the future security and investment security play a decisive role.
These goals can only be achieved with a modern MES system that is a central component of a forward-looking solution platform which digitalizes and integrates a wide range of systems and processes consistently.
Goals:
Paperless manufacturing


DHF

eDHF
DMR

eDMR
DHR

eDHR

self-auditing eDHR

Continuous, bidirectional real-time data exchange between development, planning and production (PLM, ALM, MES)
Ensuring compliance of standards
Absolute FDA/MDR compliance
Cost savings without losing quality
Accelerated innovation (NPI)
Visualized performance data (OEE)


A modern MES system, such as Opcenter EX MDD, provides a future-proof platform to digitalize and integrate all solutions and processes. It is the centre of a strategic digitalization of manufacturing processes through seamless integration with PLM, ALM, MOM and APS.
Therefore it creates the basis for regulation-compliant paperless manufacturing. Production models such as Digital Twin, Digital Thread or Closed Loop Manufacturing can be realised in the medium term.
MES benefits:
Paperless manufacturing:

DHF

eDHF
DMR

eDMR

DHR

eDHR

self-auditing eDHR
Digital Twin

Digital twin of product
Digital twin of production
Digital Enterprise
= ERP + PLM + MES
Closed Loop Manufacturing

Continuous, bidirectional real-time data exchange between development, planning and production
Digital Thread to continually optimize production
Benefits (based on chosen customer examples):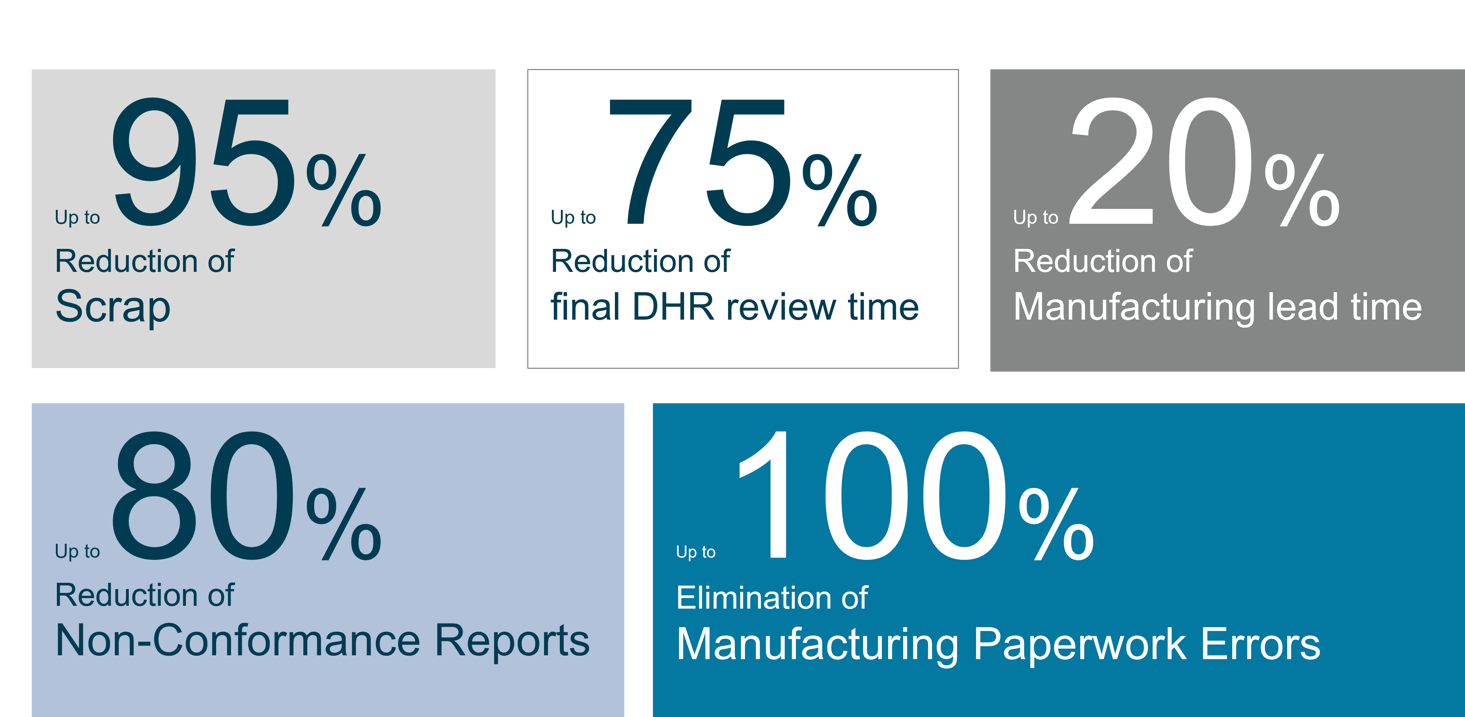 Hear more from companies like yours about Opcenter EX MDD
"Through a reduction of DHR review time by 75 percent we were able to adjust resources and increase our NPI significantly."
"We were able to reduce our non-conformances by 80 percent within the first two months of the Opcenter EX MDD implementation, eliminate all documentation errors and reduce the number of NCRs close to zero."
"By using Opcenter EX MDD as central digitilization platform we reduced our scrap by 95 percent and achieved a significant cost reduction."
Schedule your personal appointment for a short presentation
You can choose between 15 and 30 minutes for your first appointment.
When booking your appointment, please tell us briefly your three most important requirements so that we can prepare individually.
Medtech articles in our blog
Read more about paperless manufacturing and closed loop manufacturing in the medical device industry in our blog.