MES for Electronics Manufacturing
25-80% increase in manufacturing efficiency through Digital Thread from offer to product
Smart Manufacturing integrates design, engineering, planning, production and analytics
Strategic MES digitalization platform: Siemens Opcenter Execution Electronics
MES as the basis for Smart Manufacturing in electronics production
Digitalization and Smart Manufacturing are both a challenge, a goal and an opportunity in OEM, contract or PCB manufacturing. A powerful MES System is fundamental in consistently fulfilling industry-specific requirements, such as rapid offer preparation and market introduction of new products (New Product Introduction, NPI), effective product variant management and transparent, flexible production with meaningful key figures and reports (OEE).
Siemens Opcenter Execution Electronics (Opcenter EX EL; formerly Camstar Enterprise Platform), as a modern MES System, supports and integrates all processes from design to engineering, planning to production and enables continuous real-time control and optimization of manufacturing processes. Reduce the number of your manufacturing software solutions and minimize media and information disruptions as well as data silos.
Accelerate offer preparation by up to 85 percent, increase production efficiency by up to 30 percent
Modules such as BOM-Connector achieve up to 85 percent faster offer preparation through a direct connection to distributor databases and an intelligent automatic comparison of ERP, CAD and MES data. Further integrated modules for process engineering (Valor Process Engineering) or production (fine) planning (Advanced Planning and Scheduling, APS) lead to an increase in production efficiency of 25-30 percent on average.
We successfully support manufacturers, EMS and OEM worldwide for more than 30 years to digitalize, optimize and automate manufacturing processes. The combination of Siemens Opcenter EX EL as an industry-specific MES System and znt-Richter as an implementation partner offers you significant advantages: You receive a powerful MES based on a future-proof solution platform from an experienced MES implementation partner for Smart Manufacturing and Closed Loop Manufacturing solutions.
MES lays the foundations for Smart Manufacturing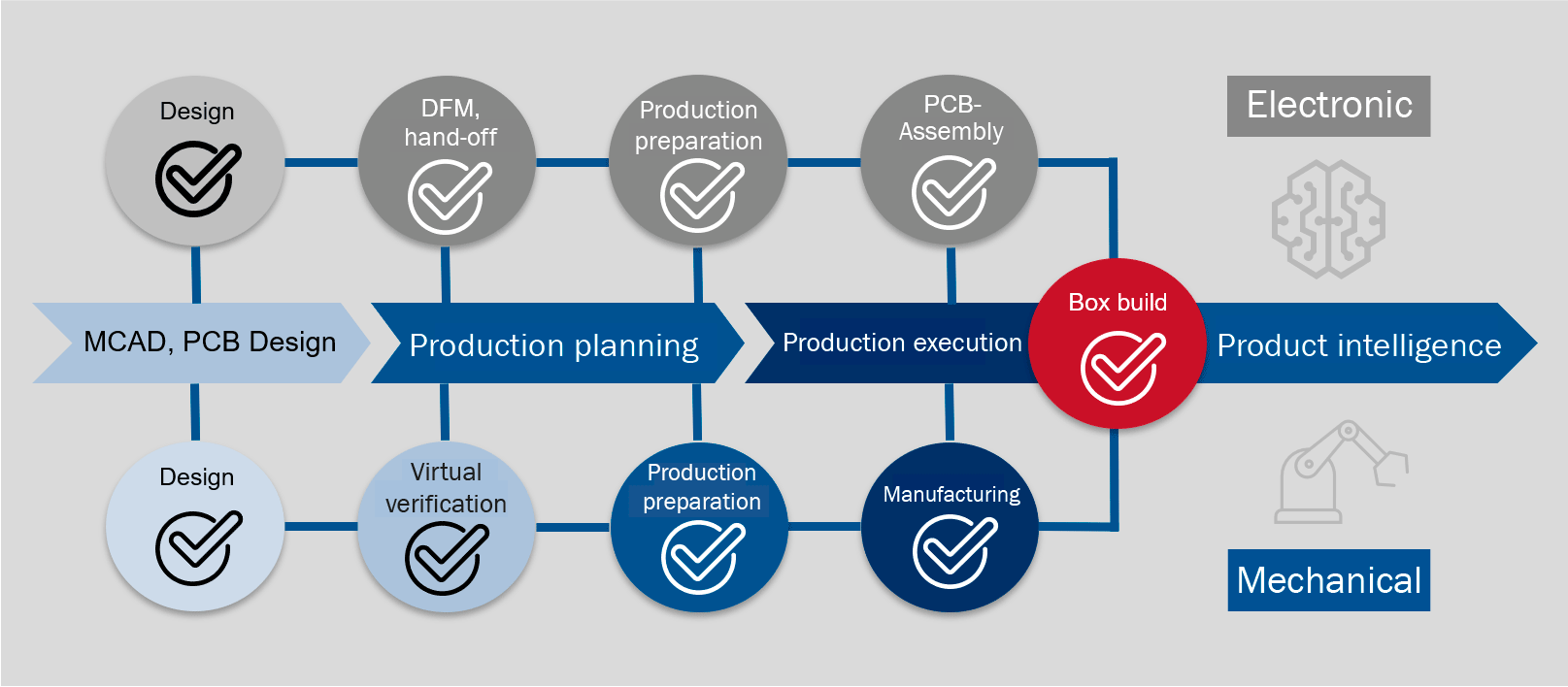 How digital is your electronics manufacturing?
Use our checklist to find out where you rank in Smart Manufacturing on a scale of 1-10 and which areas offer the greatest optimization potential.
Challenges
Goals
MES solution
Challenges in electronics manufacturing
According to different industry organisations, the challenges for all manufacturers, EMS and OEM have been growing steadily for years, reinforcing each other and meaning a significant cost factor in total.
These include more and more complex and fragile supply chains as well as the increasing number of product variants. All challenges together increase the pressure on electronics manufacturers to digitalize their own processes for Smart Manufacturing.
In summary:
Cost and efficiency pressures from design to production

More effective offer preparation

Optimized use of materials

Fast NPI

High product variety due to individual customer requirements

Production of lot size 1

Integration of software solutions and data silos

Increasing compliance requirements

Global dynamic competitive environment

Complex, sometimes fragile supply chains for distributed and at the same time interconnected locations
Smart Manufacturing for electronics manufacturers
The goal of Smart Manufacturing or Closed Loop Manufacturing in electronics manufacturing requires the comprehensive digitalization of existing systems and processes. This includes the replacement or integration of existing systems to avoid media disruptions in the transfer of information and data between development, planning, production and quality management.
In addition to the fulfilment of specific and often urgent functional requirements, future security and investment security play a decisive role. These goals can only be achieved with a modern MES System, which works as a central component of a future-oriented solution platform that continuously digitalizes and integrates various systems and processes.
Goals:
Fast offer preparation

System integration for continuous, bidirectional real-time data exchange between development, planning and production

Fast and flexible changeover of production lines

Mastering of product variants

Cost savings without loss of quality

Accelerated innovations (NPI)

Visualized performance data (OEE)
A modern MES System, such as Opcenter EX EL, offers a future-proof platform to digitalize and integrate all solutions and processes. It stands at the centre of a strategic digitalization of manufacturing processes through a seamless integration of design, engineering, APS and MES. Thereby, it creates the preconditions for future-oriented production models such as Digital Twin, Digital Thread or Closed Loop Manufacturing.
Advantages MES:
A MES is at the centre of a digital transformation in the context of Industry 4.0 scenarios as well as for:
Smart Manufacturing

Integration of manufacturing systems and processes
Digital Twin

Digital twin of the product
Digital twin of production
Digital Enterprise = ERP + PLM + MES

Closed Loop Manufacturing

Continuous, bidirectional real-time data exchange between development, planning and production
Digital Thread to continuously optimize production
Schedule your personal appointment for a short presentation:
You can choose between 15 and 30 minutes for your first appointment.
When booking your appointment, please tell us briefly your three most important requirements so that we can prepare indivdually.
Industry articles in our blog
Read more about digitalization and Smart Manufacturing in electronics manufacturing!