Advantages of MES for manufacturing
Benefits, functions and scope of a Manufacturing Execution System (MES)
MES solution creates the basis for successful digitalization of manufacturing processes
Overview: MES advantages for manufacturing companies
"What is MES"? We like to answer this question as follows: Manufacturing Execution Systems (MES) are central information hubs as well as control and monitoring systems in manufacturing. A MES enforces planning and production specifications and transmits feedback on the production process in real time. It plays a significant role in managing the increasing complexity and the associated cost pressure in manufacturing. It creates more transparency, comprehensive traceability and documentation, and it provides important data for the further improvement of production processes.
For us, an MES stands at the centre of every successful digitalization strategy of manufacturing companies. Together with our customers, we have been successfully implementing Smart Manufacturing solutions for Closed Loop Manufacturing based on a powerful, scalable and future-proof MES/MOM solution platform for 20 years.
Our MES expertise
We succesfully implement MES solutions in various industries worldwide for 20 years.
100
+
MES projects realized
1000
+
man-years of experience
10.000
+
Machines connected
What are the benefits of an MES?
A Manufacturing Execution System monitors, controls and optimizes manufacturing processes. Industry-specific MES functions and professional implementation lead to improved productivity, quality, compliance and cost efficiency of manufacturing processes and enable a fast ROI.
Benefit dimensions of an MES:
Time
Costs
Quality
Strategy
Compliance
Quality assurance
Risk hedging
Reduced time spent
Reduced lead time, for example through improved OEE and paperless process control

Faster new product implementation (NPI), for example through the digital twin of the product and digital models

Less time spent on regulatory compliance, for example through process reliability and traceability
Reduced costs of production
Lower manufacturing costs through improved OEE and paperless process control, for example

Lower process costs through reduced effort and elimination of paper processes and redundant data

Lower inventory costs through reduced safety stocks
Higher quality in manufacturing
Reduced risk of documentation and process mistakes

Reduced efforts for non-conformances, for example through automatic data collection and analysis
Strategy for production control
Platform and product standardization and their modularization

Digital twin of product & production

Standardization and harmonization of processes

Control of complexity in closed loops

Decisions based on real data and KPIs
Ensuring compliance
Full traceability

Validated approvals/specifications - compliant with 21 CFR Part 11

Automated eDHR

Process reliability regarding the 5 M's (material, man, machine, method and measure)
Ensuring quality
Single source of truth for manufacturing and quality data

Automated data collection and analysis

Statistical methods (SPC, AQL, ...)

Configuration, variant and change management
Strategic risk management
Intrinsic compliance with regulatory processes

Process validation and conformity

Real-time alarms

Central Analytics & Reports
Schedule a 15 min appointment
You have read enough and would like to talk to us directly?
Selection of successful MES customers
What advantages does MES offer?
A modern, future-proof MES solution platform offers multifunctional features for optimizing your manufacturing processes.
Data acquisition and collection
Intelligent data acquisition and collection makes the status of manufacturing available in real-time while archiving all operational processes
Track & trace of the production
Continuous assurance of manufacturing specifications by the system, traceability of production regarding orders, materials, resources, etc.
Order Dispatching
Optimally executed manufacturing plans lead to shorter cycle times, on-time deliveries and reduced demands on limited resources
Document control
Direct access to manufacturing documents and management of forms such as work instructions
Resource management
Maintenance and consideration of competences or certifications of employees increases occupational safety and manufacturing quality
Maintenance Management
Tracking resource usage based on time of use and time of production, ensuring the compliance with maintenance requirements
Material Management
Management and tracking of movements and storage of materials, intermediate products and finished products
Operations & Detailed Scheduling
Optimization of the manufacturing (order based on prioritization and rules) under consideration of material and resource availability
Performance analysis
Up-to-the-minute reports on current manufacturing processes, including OEE data for resource usage, availability, cycle times and order fulfillment
Process management
Monitoring of manufacturing processes with decision support for users to correct and improve process steps and functions
Quality management
Consistent consideration of quality standards and limits through preventive measures and event management to ensure high product quality
Resource management
Central management of production-relevant resources such as machines, tools, employee skills, materials, processes, etc.
MES considers 5M process requirements of quality management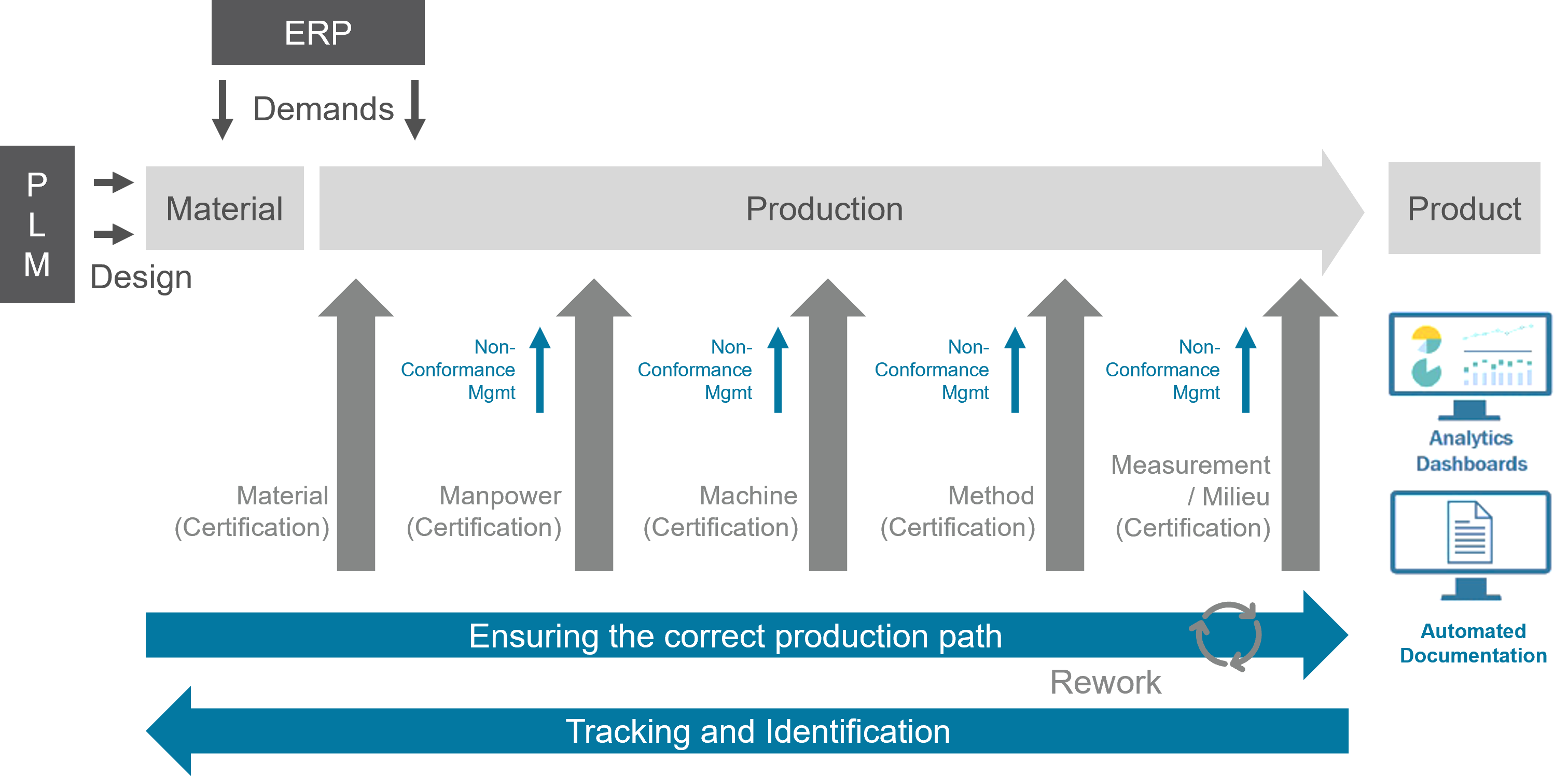 Our MES industry expertise
More expertise through a professional partner network
If your requirements demand it, we use our efficient partner network to ensure the best possible complete package for you.
MES + Equipment integration in one solution
Complete integration of the shop floor
The seamless integration of machines and sensors on the shop floor is a success factor for the efficient use of a Manufacturing Execution System. The availability of all information creates maximum transparency and enables the automated implementation of manufacturing specifications. The PAC (Process Automation Controller) solution developed by ZNT is a powerful, open platform for your equipment integration and automation in the manufacturing industry. PAC integrates your entire shop floor with the MES and other higher-level systems and offers central and uninterrupted administration with flexible options for deployment.
What successful MES customers say
"Through a reduction of DHR review time by 75 percent we were able to adjust resources and increase our NPI significantly."
"We were able to reduce our non-conformances by 80 percent within the first two months of the Opcenter EX MDD implementation, eliminate all documentation errors and reduce the number of NCRs close to zero."
"By using Opcenter EX MDD as central digitilization platform we reduced our scrap by 95 percent and achieved a significant cost reduction."
Schedule your personal appointment for a short presentation:

You can choose between 15 and 30 minutes for your first appointment.
When booking your appointment, please tell us briefly your three most important requirements so that we can prepare individually.