Automation
We are experts in equipment automation as a key element of the Smart Factory
Holistic implementation of various automation scenarios and automation levels
Successful manufacturing automation
The concept of Industry 4.0 and Smart Factory envisions a production that is as automated as possible with minimal manual intervention. This requires on the one hand the automation of all machines and on the other hand their automated control by higher level systems. With our key competence in the areas of MES for manufacturing control as well as our PAC equipment integration platform for machine automation, we have successfully supported customers worldwide to automate their manufacturing.
Typical requirements of our customers for manufacturing automation:
Integration into a diverse system landscape

Support of different automation levels

Realization of various automation scenarios

Support of different communication protocols and bridging of semantic gaps

Long-term maintainability
Realization of different equipment automation scenarios
Successful manufacturing automation based on individual requirements
Heterogeneous system landscapes, equipment types as well as interfaces and protocols require very different and customer-specific automation scenarios. We realize a wide variety of automation scenarios for our customers for more than 30 years.
In general, we consider four different levels of automation:
Data Collection
Collection of machine data and production data (MDE / BDE). Provision of OEE data and process improvements through high transparency of manufacturing data.
Basic Automation
Communication between MES and equipment, for example, to select and validate the recipe for a machine. Reduction of setup errors as well as increase in quality and yield.
Advanced Automation
Nearly full control through the MES, such as starting and aborting/terminating machine programs, validating process parameters and the transfer & parsing of recipes.
Full Automation
Full digital management and control of manufacturing with minimal human intervention - lights-out-factory.
PAC solution for your equipment automation
Our market-leading PAC integration platform combines machine integration and automation into one open and scalable solution.
Smart Factory step by step: from Data Collection to Full Automation
We support customers in their advancing automation
In our experience, most customers start with a Data Collection as their first level of automation on the way to a Smart Factory. A Smart Manufacturing Audit explicitly reveals the status quo of the own manufacturing environment as a basis for automation. Further, modern Smart Manufacturing solution environments and their seamless system and data integration are key contributors to successful automation.
Often, the Data Collection level is followed by Basic Automation in initially selected manufacturing areas to fulfill increasing requirements. The enormous potential of automation according to concepts such as Industry 4.0 or Smart Factory is leveraged with Advanced Automation. This level significantly contributes to an increased manufacturing efficiency while simultaneously optimizing the use of resources and, thereby, increasing overall profitability.
We successfully accompany many customers from the concept phase through a step-by-step implementation of the different automation levels. Our PAC integration platform supports a flexible, scalable implementation with simple central administration and long-term maintainability and it evolves with the automation requirements of our customers.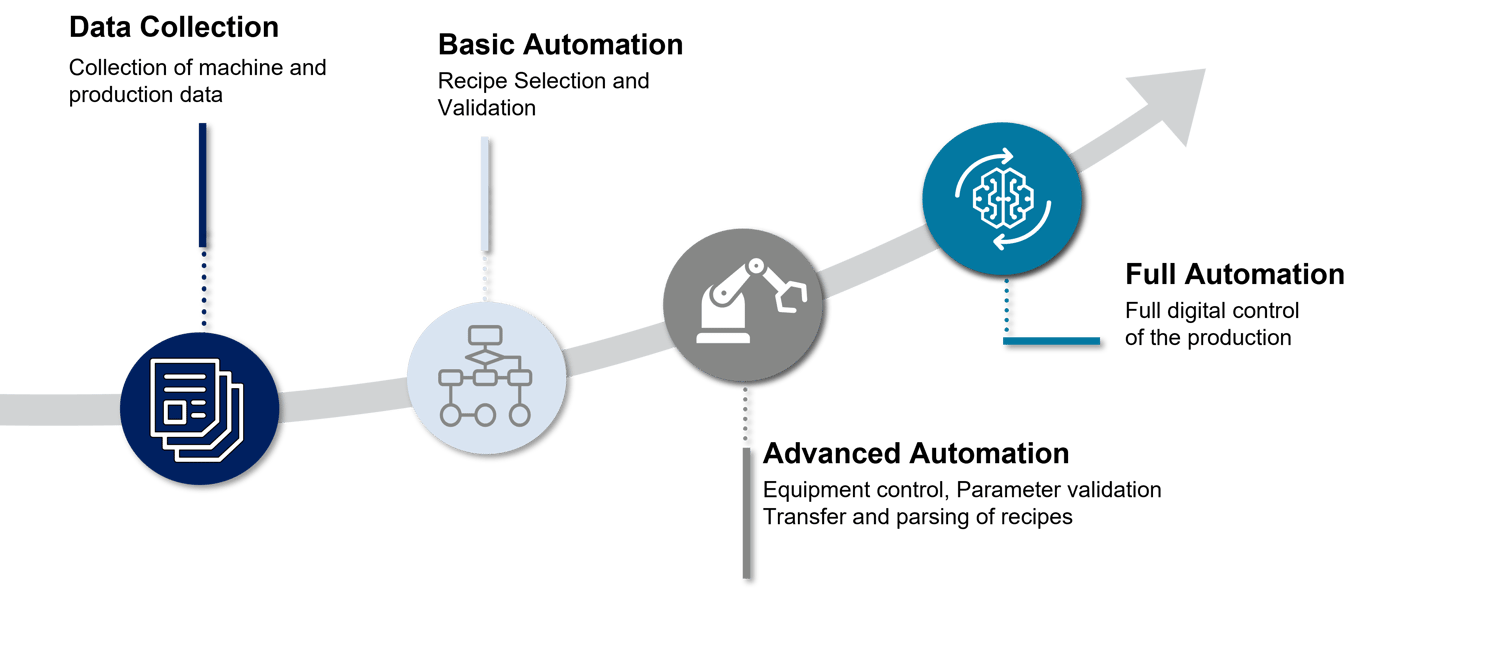 Determine your Smart Factory Status Quo
We identify your Smart Manufacturing and automation potential based on interviews and workshops and deliver a customized implementation plan with specific recommendations for action.